April 08, 2017
Read time: 4 mins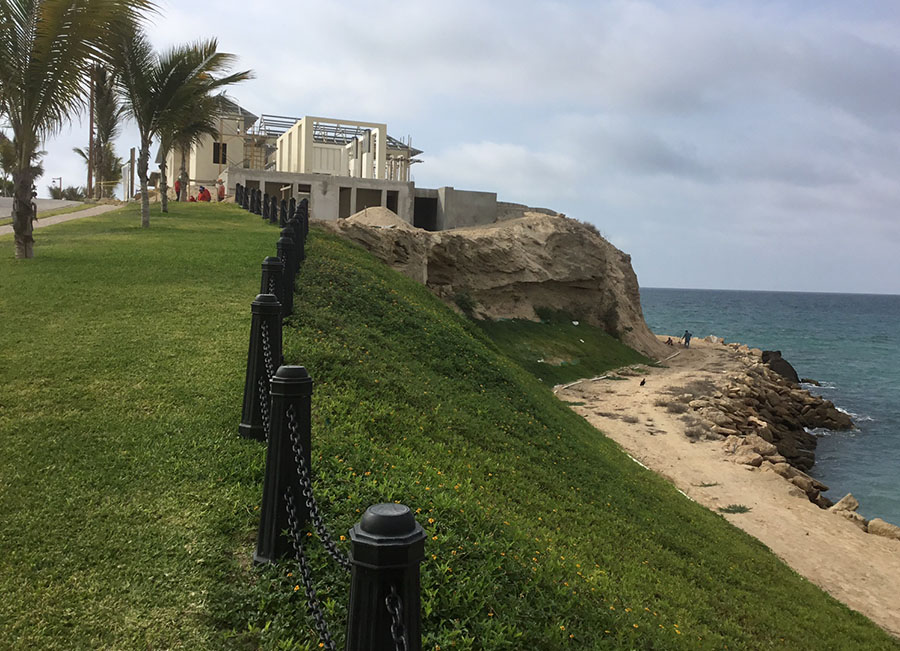 Luxury housing development in Ecuador
Andres Duany and DPZ do "new urbanism" in the USA, but look at what they do here in Latin America! The homes built at Casa del Sol have none of the traditional, English Colonial appearance of the Traditional Neighborhood Developments the New Urbanists are famous for in the United States.
Latin Americans, by and large, prefer modern architecture.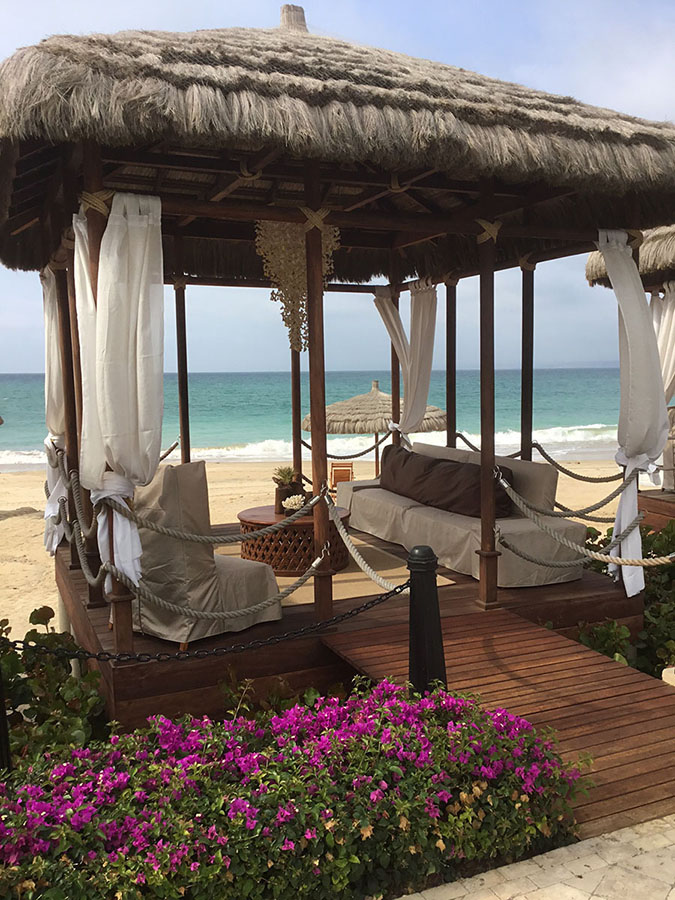 In a nod to traditional, local building with toquilla palm thatch, the community beach is lined with sun-sheltering pods for residents to sit, order drinks, and enjoy sunsets.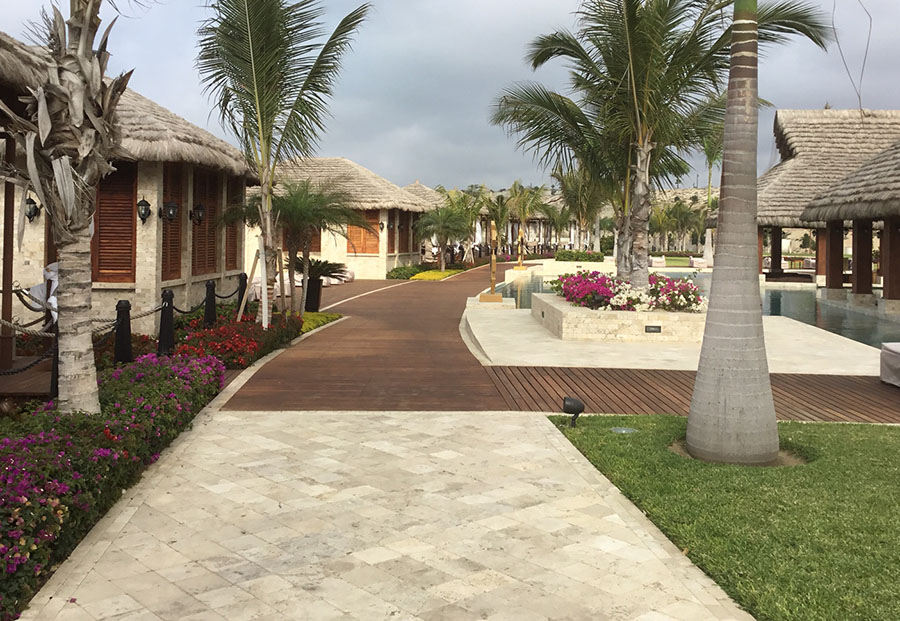 The community center surrounds a pool (on right) with two swim-up bars, and the cabañas on the left, in front of the sea. Each of those palms costs about $300.00, planted (no, there are not any zeros missing). Relatively speaking, it's cheap to build a beautiful place in Ecuador.
We plan to do the same right next door, on our land.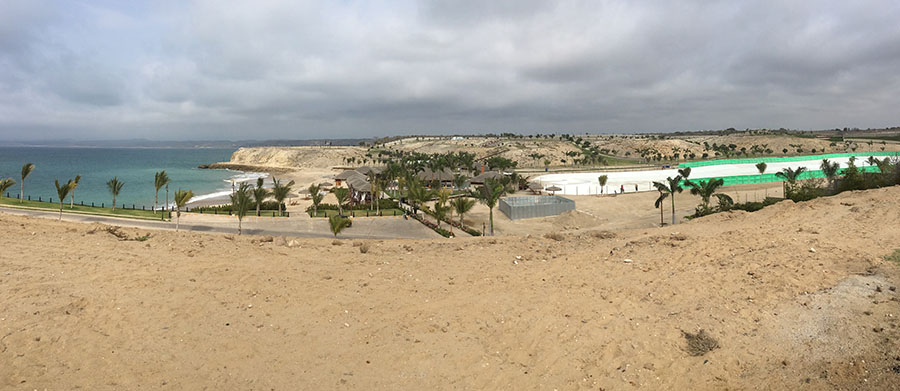 The subdivision has over 300 lots, and only a handful have started building. They bought the lots in boom times, because subdivision financing works differently here.
Folks buy and pay for their lot before anything gets built. Once the developer has enough money in lot sales, the earth movers roll in and work beings. After all infrastructure is in place, the buyers take position and begin constructing homes.
The large white area on the right is the liner for a huge artificial lake. Crystal Lagoons, a Chilean company, builds the saltwater, swimmable, sailable lake.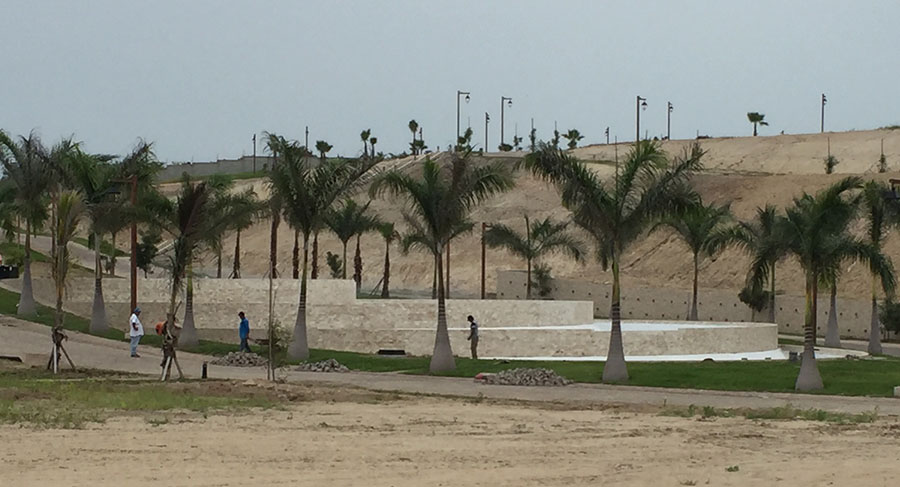 Workers install stone pavers, and coral veneer on concrete retaining walls.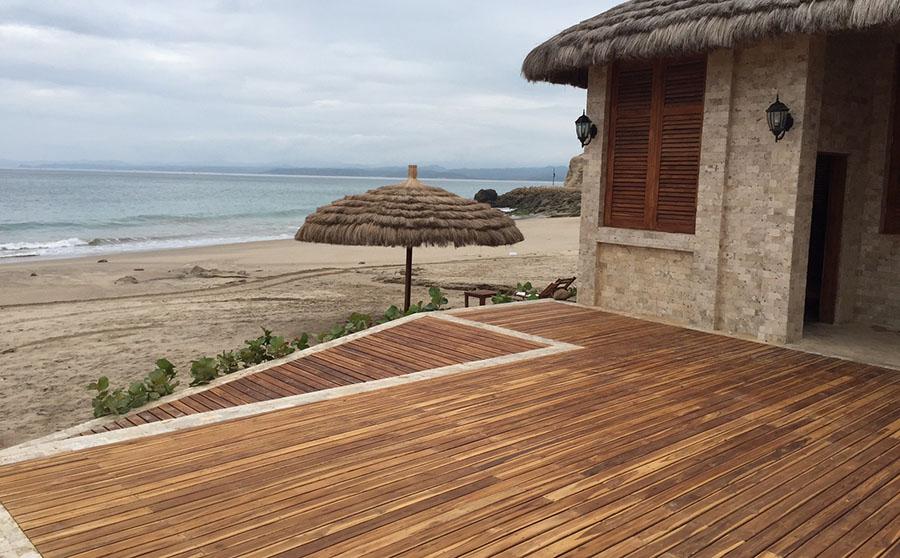 Hardwoods, such a guayacan, withstand the humid, marine environment. Beautiful, and plentiful, you will find them on used for flooring, rails, and rafters.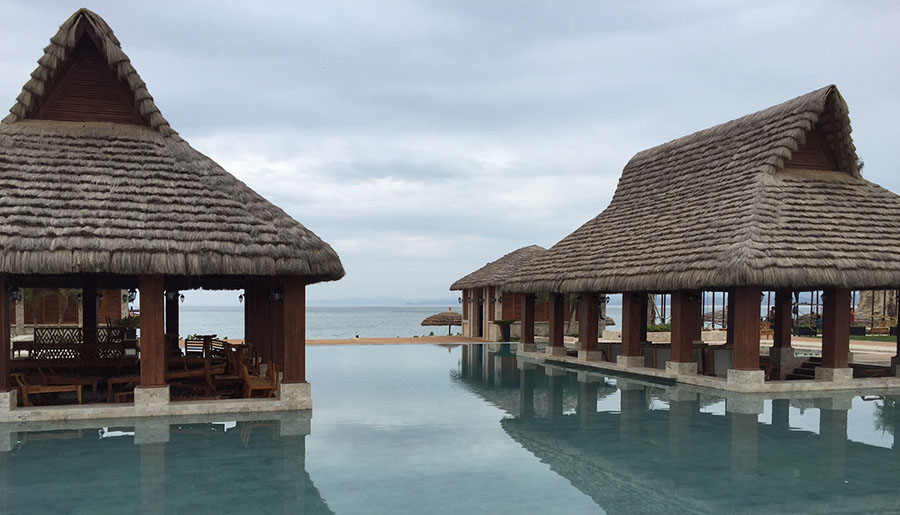 A view of the infinity pool with swim-up bars, and the Crystal Lagoon, still under construction, just beyond.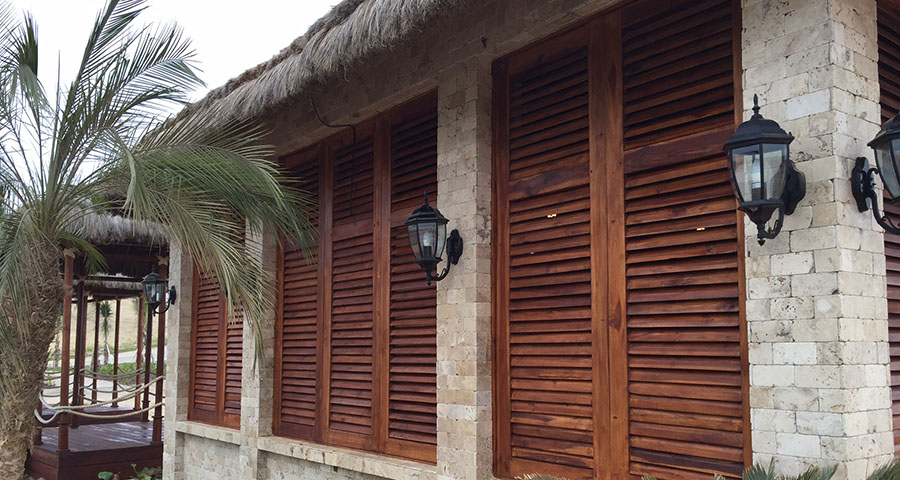 What remains characteristic of Duany's projects everywhere are the high quality details, such as coach lights and high quality teak shutters.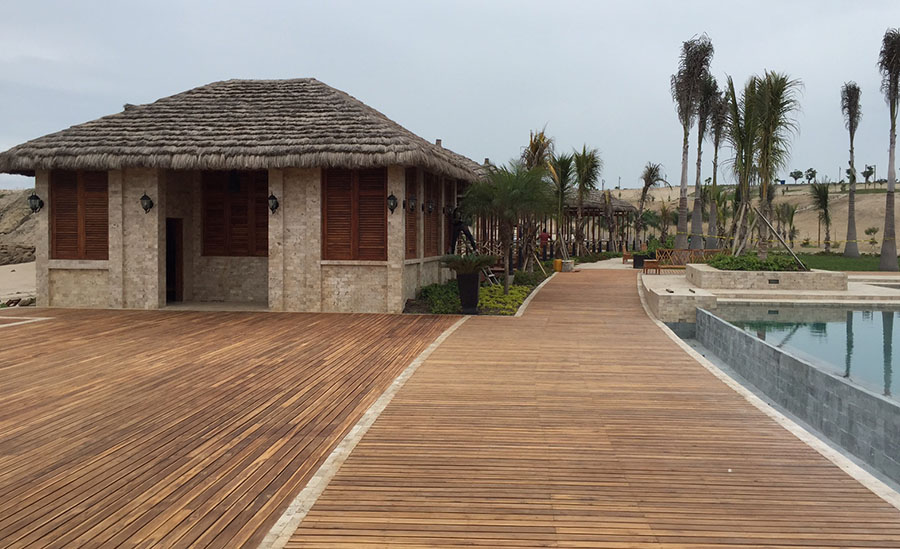 A view of the malecon, or boardwalk, exclusively for residents. About half mile away, another malecon is lined with little restaurants run by the local fishermen's wives: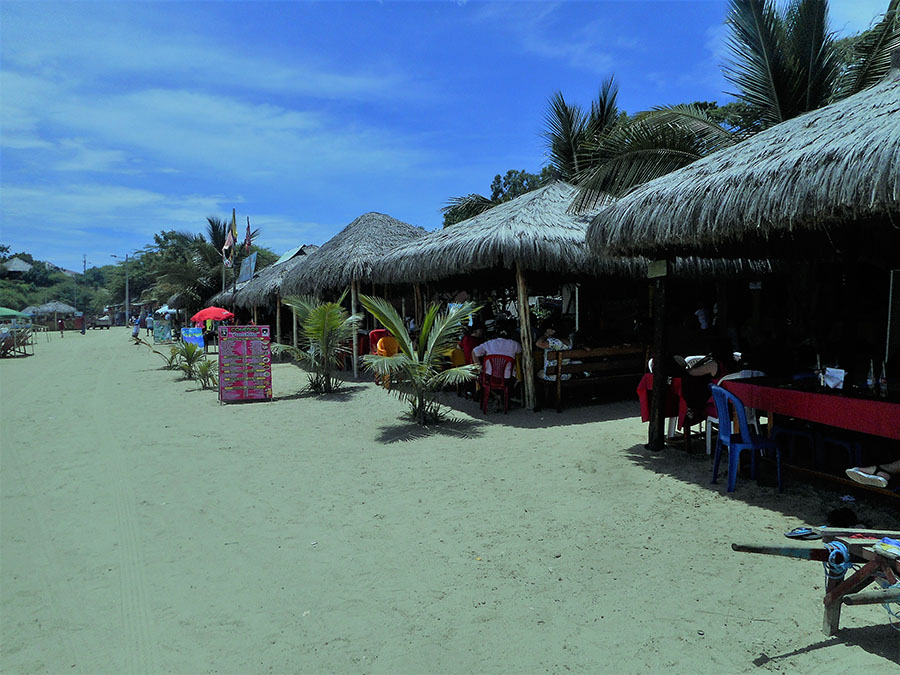 While the new malecon, or boardwalk, has the air of island luxury, the old malecon at the fishing village has the gritty charm of real life. Here the wives, daughters and grandmothers of working artisanal fishers cook the bounty of the sea at their doorstep.
It means you cannot get whatever you want, when you want it, and sometime the service does not meet 5-star standards. But it's real, the food is delicious, and the beer costs a dollar.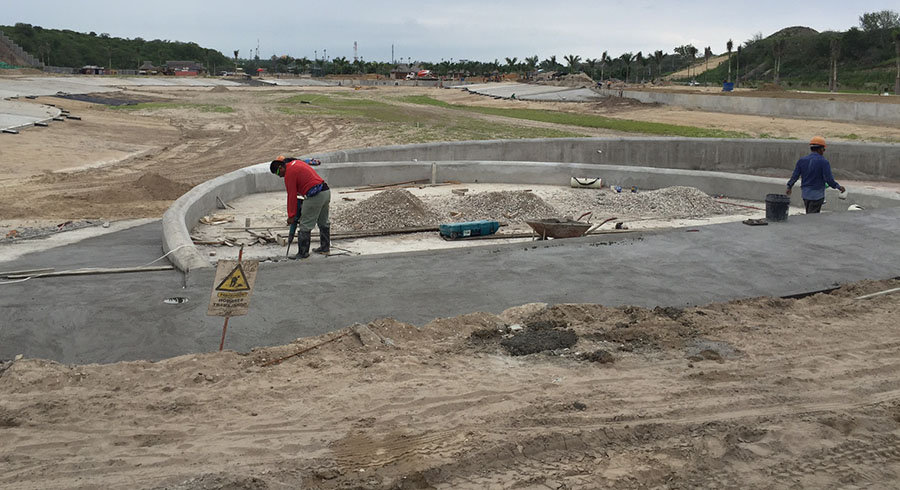 Here, under construction, Crystal Lagoons, a company form Chile, fabricates huge, swimmable and sailable, saltwater lakes. They use special liners and filtering systems to keep the seawater crystal-clean.
It is such an unique trade secret that the company works under cover of darkness at night so nobody observes and copy their process. Access remains strictly controlled, with armed guards keeping visitors out of the area when work is underway.
We came to visit with the geologist, so we were allowed in.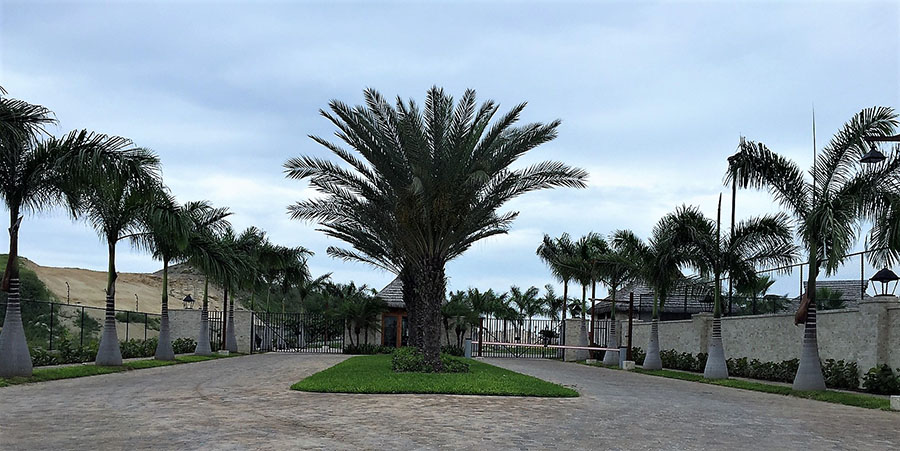 Unlike most DPZ developments in the USA, this one has entrance gates. Most communities in Latin America have gated access, and you cannot get in unless someone invites you.
In other words, there is no Sunday-driving, checking out the neighborhoods. You cannot get in. Even if you want to buy a lot, you must come with an appointment and a sales representative.
Leave your identification card with the guard. And they check your vehicle on the way in and the way out.
— Fernando Pagés Ruiz is ProTradeCraft's Latin America Editor. He is currently building a business in Ecuador and a house in Mexico. Formerly, he was a builder in the Great Plains and mountain states. He is author of Building an Affordable House and Affordable Remodel (Taunton Press).