December 10, 2016
Read time: 10 mins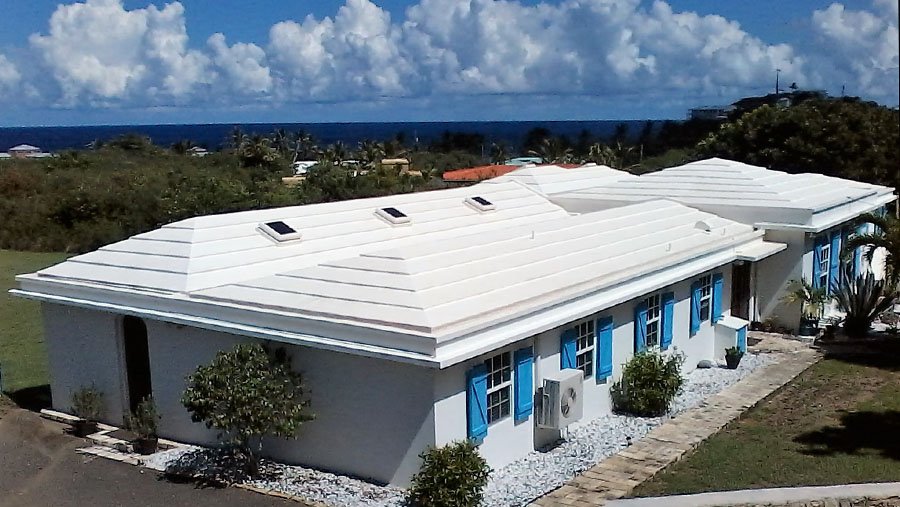 Cast in place concrete roofs resist hurricanes on St. Croix, and collect rainwater for household use.  
A Mashup of traditional architecture, modern technology, and good old gravity
My partner has sailed all the Caribbean islands, and fell in love with St. Croix, in the US Virgin Islands. He picked up a real estate magazine, relaxed on a beach chair and thumbed through it, realizing that beachfront homes selling for under $300,000, and condominiums with an ocean view for under $100,000 smell a lot like opportunity.
A few weeks later, I joined him exploring the island real estate.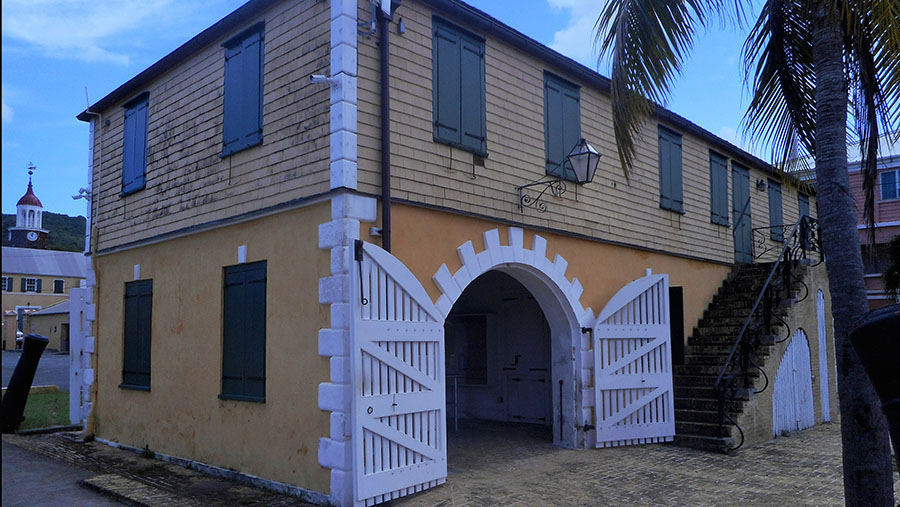 The Design has Danish Roots. The city of Christiansted was once the capital of the Danish West Indies Company, and preserves the Danish colonial charm.
Right now, real estate is on sale, although it has begun picking up as people around the world have come to know the deals available. Until recently, you could purchase a small condo in downtown Christiansted for $39,000. You can still find very nice beachfront condos for about $95,000, nice single family homes within a short walk from the beach for under $200,000, and $10-million dollar palaces for under $1-million.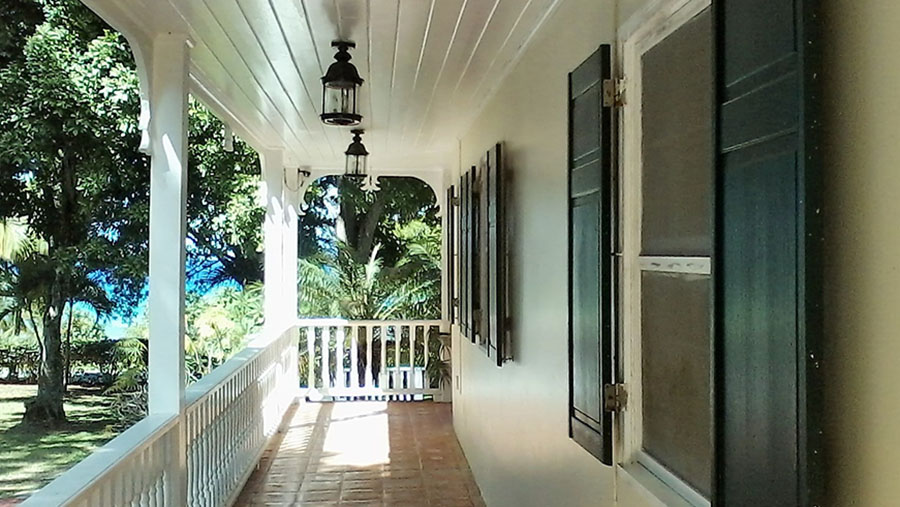 Walking is not a problem. A home in short walking distance to the Caribbean Ocean can cost as little as $350,000.
The island economy was punished by the triple blow of Hurricane Hugo in 1989, which wiped out the economic engine of major beachfront resorts, followed by the Great Recession, which forced many second homes into foreclosure, and reduced tourism.
Then a nearly fatal blow—four years ago—with the closing of HOVENSA, one of the world's largest oil refineries and the islands biggest employer. 
Nowadays the business community expresses optimism, a buyer has materialized for the refinery, tourism has increased, and real estate sales have improved.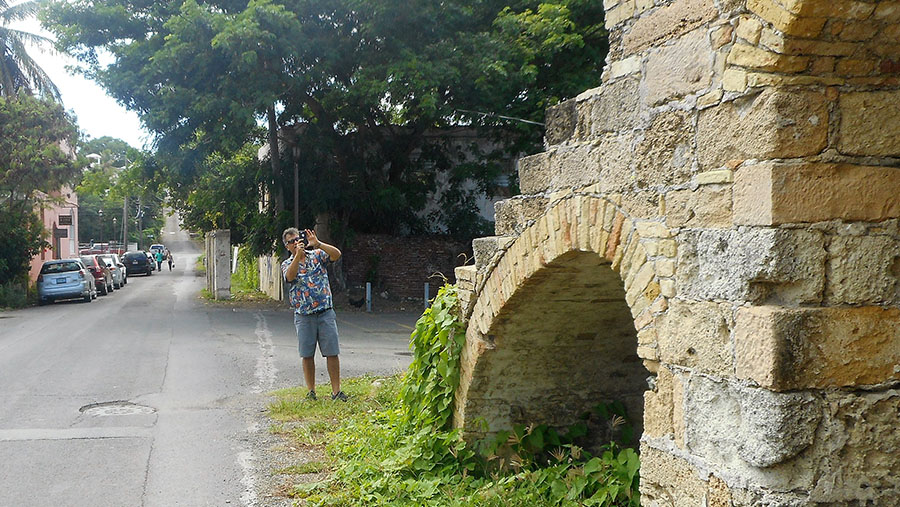 No beach? No problem. For the architectural tourist, the ruins and colonial buildings will keep you behind the lens and off the beach.
Living on Rain
Of course, I ogle the island through builder's eyes, and beyond the ruins and quaint Danish architecture, what drew my attention the most were the gutters and downspouts.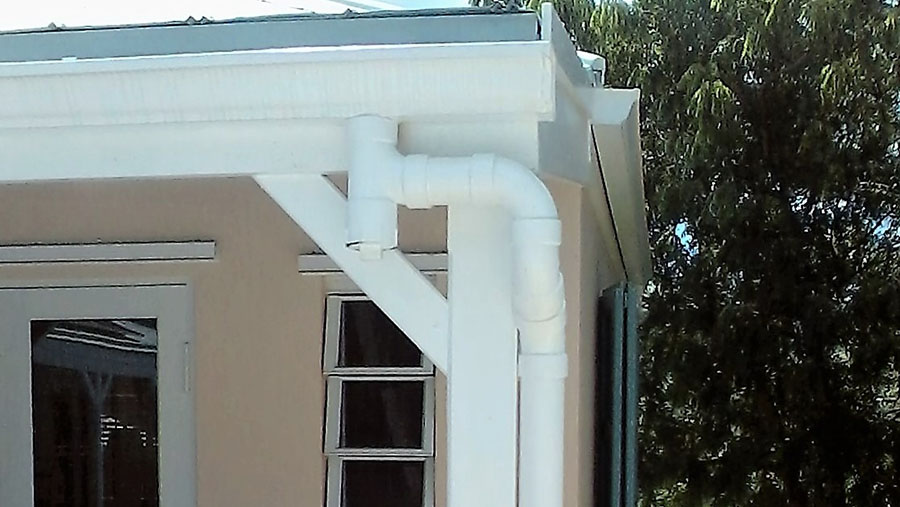 Rainwater catchment is serious. Only 20% of island homes have municipal water, the rest rely on capturing rainwater off the roof and piped into a large, concrete cistern that typically sits below the house.
With an east-west length of 45 km, and a breadth of only 11 km, St. Croix has no rivers or freshwater lakes. So, folks have no reservoirs for potable water, and, with the cost of desalination, it almost makes more sense to shower and wash dishes with Perrier.
Instead, people rely on rain.
You'll note roof gutters in St. Croix are wide and well cared for, they channel into 3-inch PVC pipes that deliver rainwater into cisterns built under the homes. It's not a hippy-thing in St. Croix, all island homes are required to be built with cisterns, which are large holding tanks that collect rain for running water.
Only 20% of homes on the island connect to the municipal water system.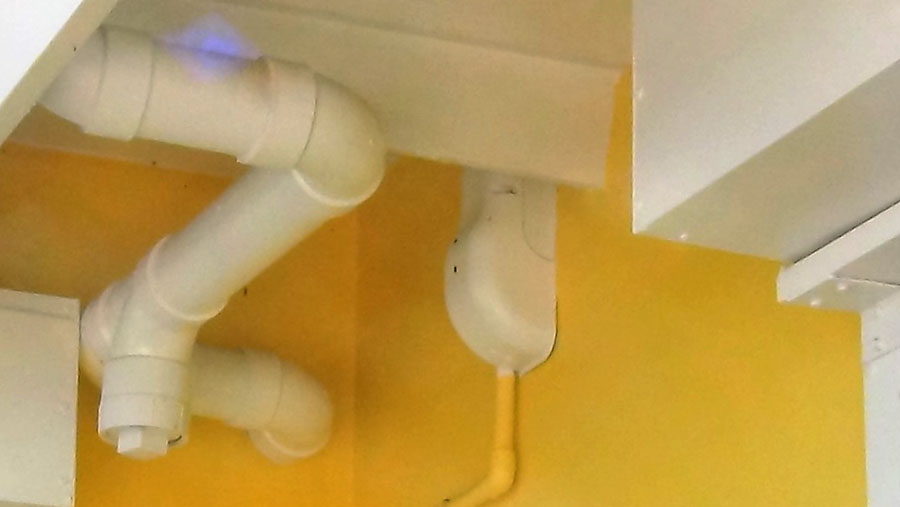 Gutters are plumbing in the USVI. The plumbing for rainwater harvesting includes cleanouts, and the entire system must be washed with bleach twice a year.
The building code in St. Croix specifies the cistern capacity for dwellings, which cannot be not less than 10 gallons for every square foot of roof area—on one-story buildings—and 15 gallons per square foot for buildings of two or more stories.
Calculations yield an average of 7,500 gallons of running water from an 1800 square-foot roof area, with potential for 25,000 gallons during the rainy season.
The cost of construction of a concrete cistern ranges from 10-to-15% of the total cost of construction, which includes the pump. Although 79% of residents never run out, should the cistern run dry, you can buy desalinated water from tanker trucks.
Opinions vary on whether untreated rain water is safe to drink (many long-term residents do drink it daily), but most people add a filtration system to one tap, which uses UV light or another treatment to clean the water. Until we knew better, my wife and me drank it straight from the tap, coffee, ice cubes and a pitcher on the night stand, all without ill effect.
Harvesting Sunshine
Another installation that will catch any builder's eye is the ubiquitous solar arrays, on roofs, in yards, on large tracts near commercial buildings, and even on streetlights. Wind turbines also dot the island, but the overwhelming source of juice comes from the sun.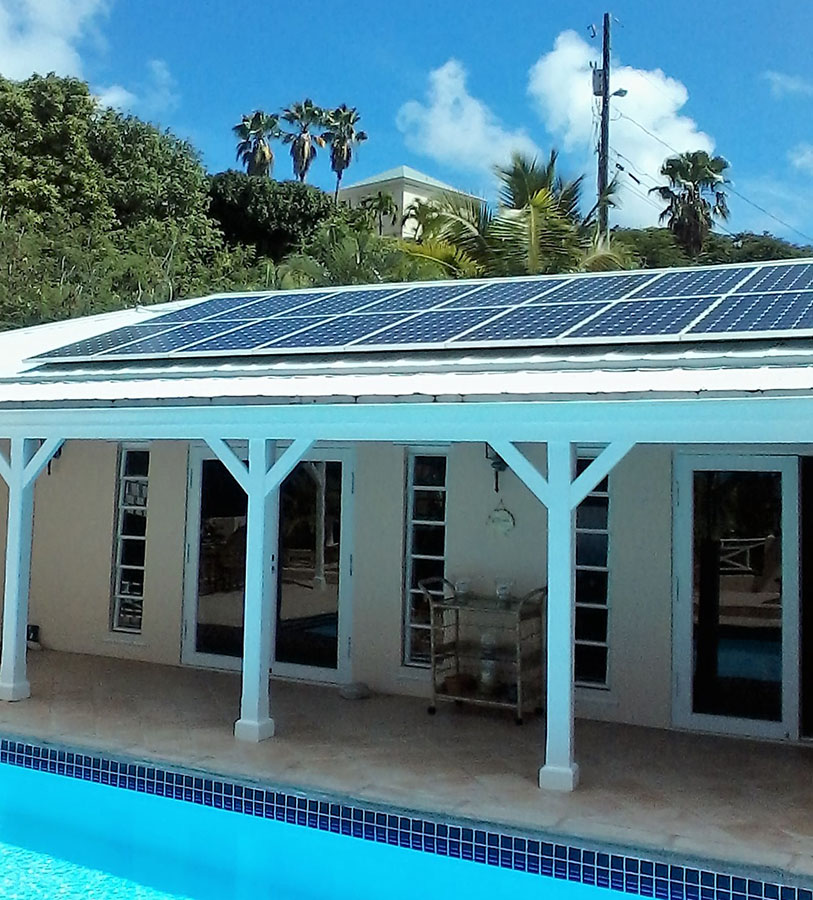 The PV matches the pool. Islanders take advantage of ample sun to power their homes and businesses.
I visited one large apartment complex, under construction, which the builder claims will represent the first affordable housing project to be totally off the grid. All the water and power is harvested onsite, not merely "net-zero" but Actual zero—no other source of power, water or heat beyond what nature delivers.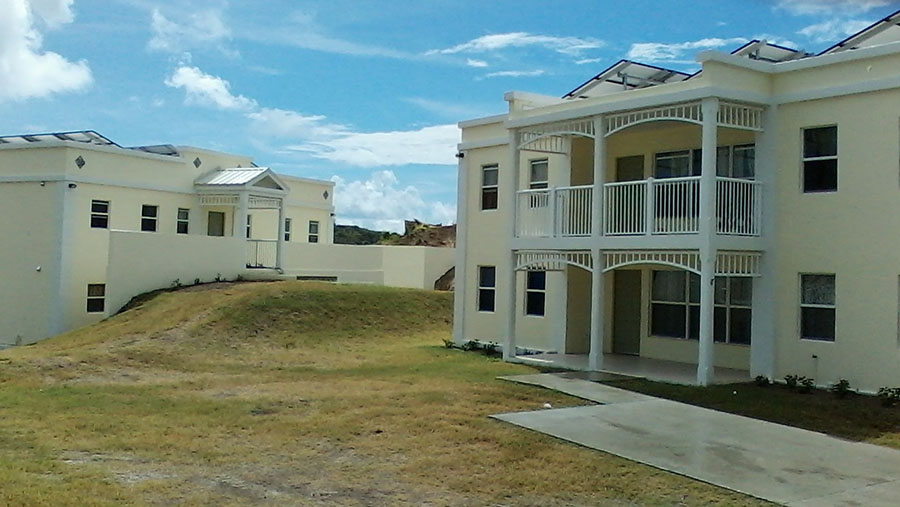 Not NET Zero—ACTUAL Zero. The builder says this 160-unit affordable apartment complex will be the first in the United States completely off the grid, without municipal water or electricity.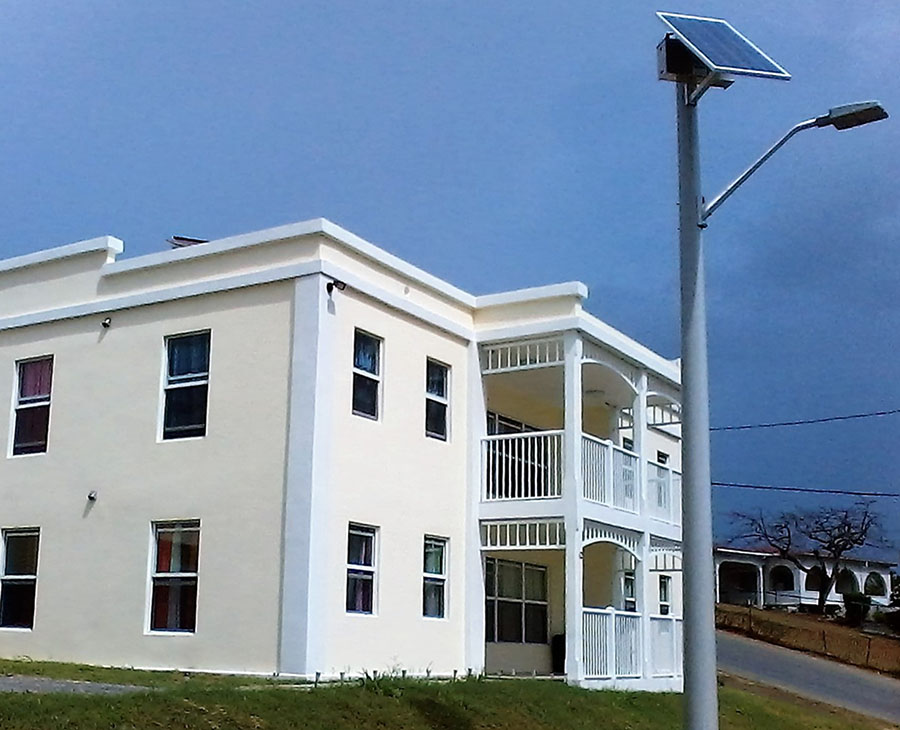 Point-source power generation. Even the traffic lights come with solar collectors.
Most homes also have a diesel generator, in case nature needs a little help.    
No Roof Rafters
Although the traditional Danish architecture popular on the island features high, vaulted ceilings with exposed rafters, most new structures feature concrete roofs, and the rafters are only there for anesthetics.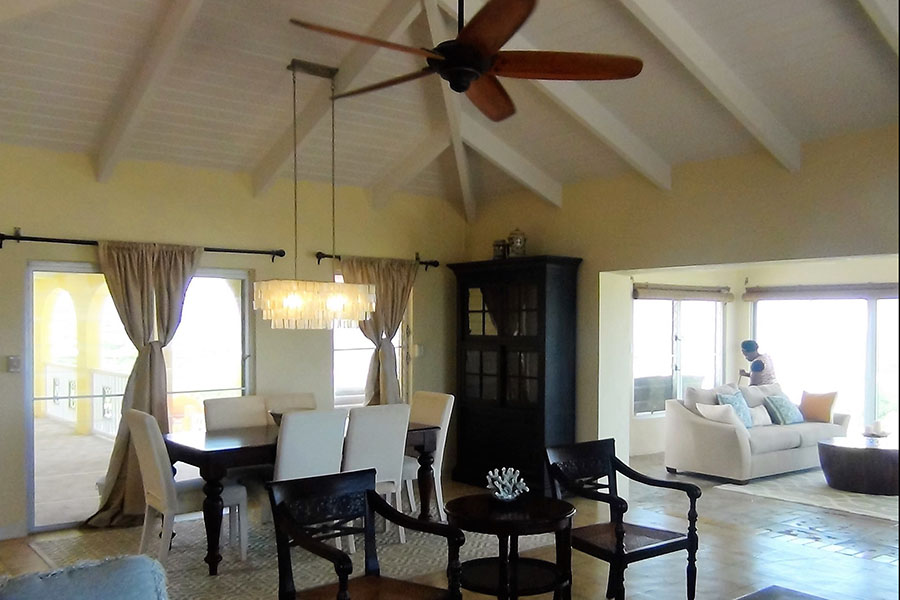 Faux Framing. This home, which appears to have a wood-framed roof, has a roof of cast-in-place concrete.
Following Hurricane Hugo, the island suffered devastating damage, in great part because stoutly framed, hurricane-tied wood roofs blew off like match sticks. Builders and homeowners realized the only sensible solution is a house-sized storm shelter, and poured concrete roofs became the norm.
These roofs, coated with a vinyl waterproofing, also provide an excellent surface to drain rainwater into cisterns. I learned its advisable to wash the roof with a light bleach mixture every six months or so, to keep the surface microbe free.
Shutters and Galleries  
Other island characteristics include real storm shutters and galleries. Storm shutters come with the traditional wood construction found on most homes and business that provide protection from both high winds and lowly intruders. Modern retractable shutters are also available, but without the charm.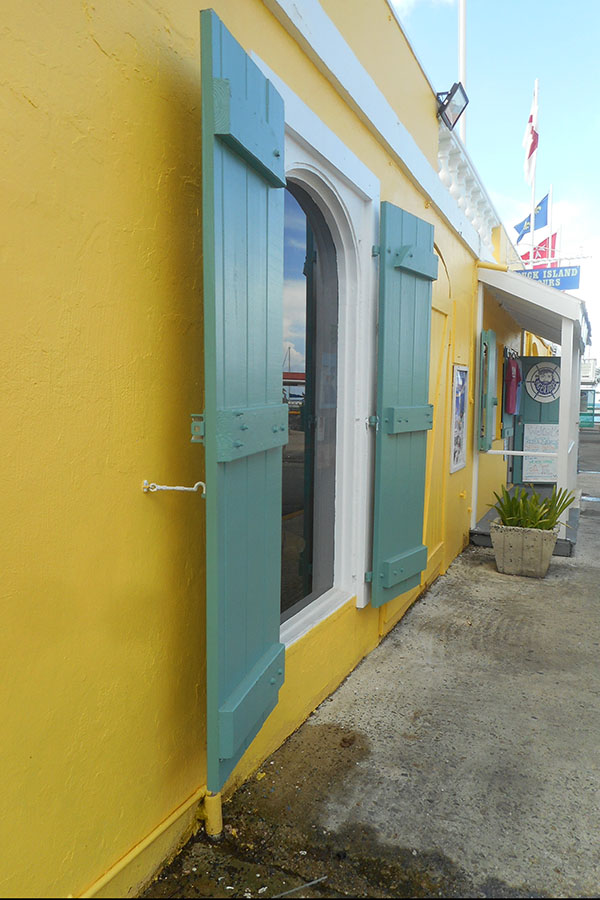 Storm shutters that carry a lunchbox. Every door and window opening on the island comes with operable shutters. They protect the interior from storms, and when you're not home, from intruders.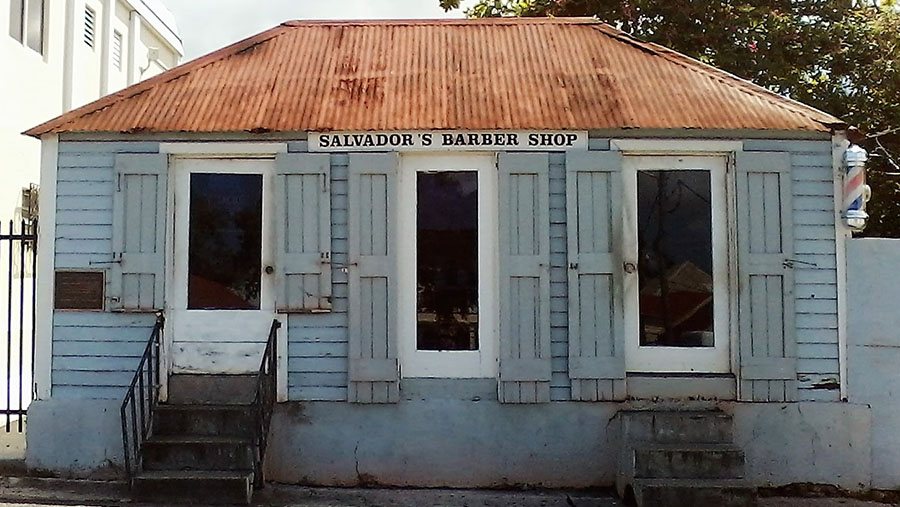 Hip roofs work best in high-wind areas. Traditional Danish hip roof and shutters are on even the humblest buildings.
Most homes and commercial buildings also have what islanders—or Crucians—call a "gallery". Stateside, it's what we main-landers would call either a porch or a balcony, and on commercial buildings, it's a what we would call a portico.
Either way, these galleries provide a sheltered outdoor area to enjoy beer on a breezy afternoon, and to keep your head dry during the frequent tropical downpours.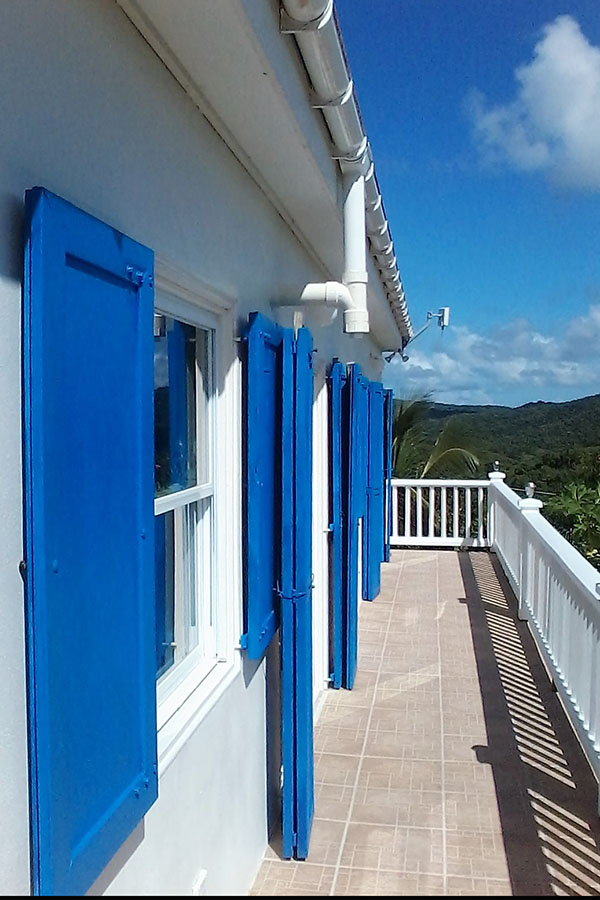 Outdoor living space. Instead of balconies, island homes have wrap-around galleries, much like a wrap-around porch, but at the second-floor level.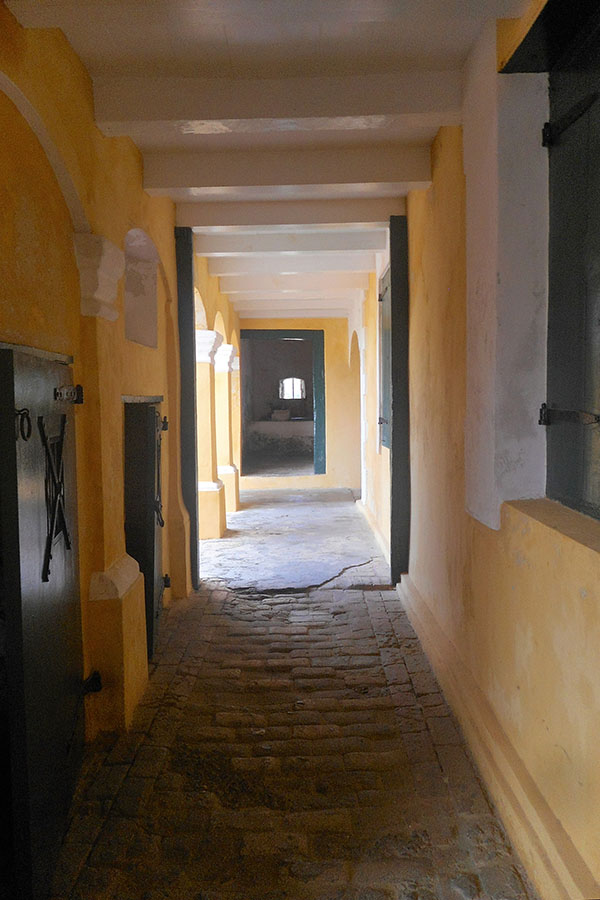 Historic buildings, such as the fort at Christiansted, have covered galleries as walkways, to keep the frequent and torrential downpours form inhibiting freedom of movement. 
Architectural Heritage
The Danish West Indies Company sold the islands of St. Croix, St. Thomas and St. John to the United States in 1917, whereupon they became the United States Virgin Islands. The Danes had exploited the islands as convenient location to export firearms and other manufactured goods to Africa in exchange for slaves, who were then transported to the Caribbean to work the sugar plantations.
The final stage of the business triangle was the exportation of refined sugar and rum to Denmark.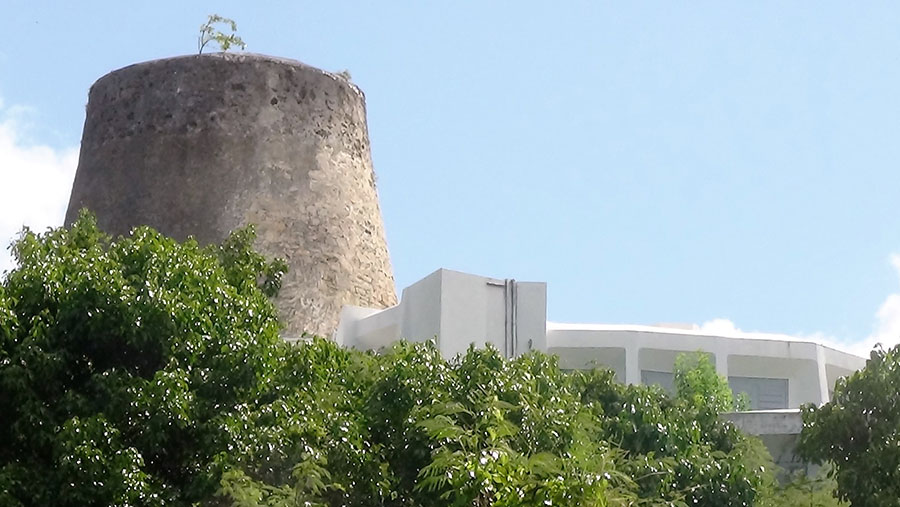 Early on, folks took advantage of incorporating ruins on their property into modern homes. However, a renewal in historical conservation prohibits this.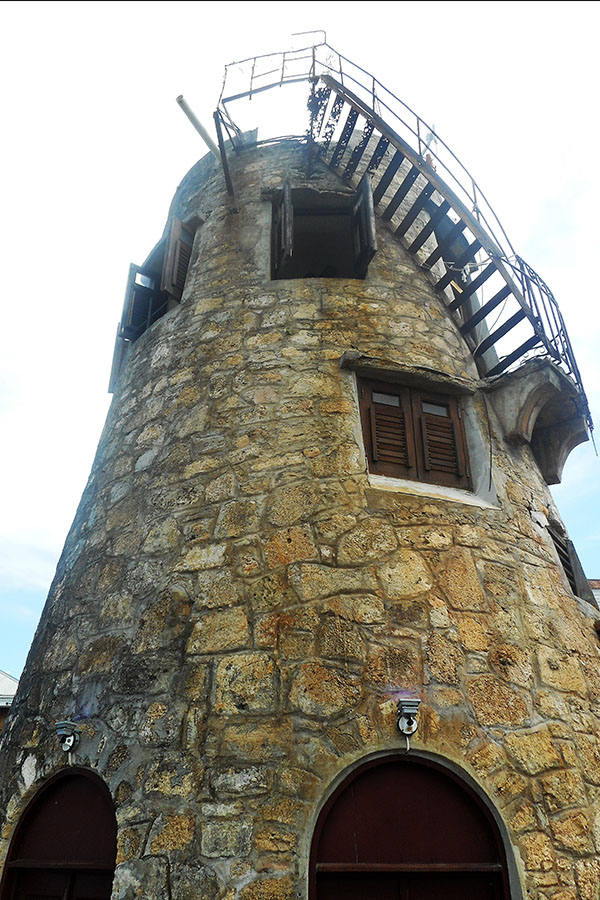 The island is dotted with ruins from its days as a Danish colony and sugar plantation.
The funnel looking structures that decorate the landscape are windmill bodies. Some were remodeled into dwellings and commercial spaces, but now the structures have protection and you can only photograph them.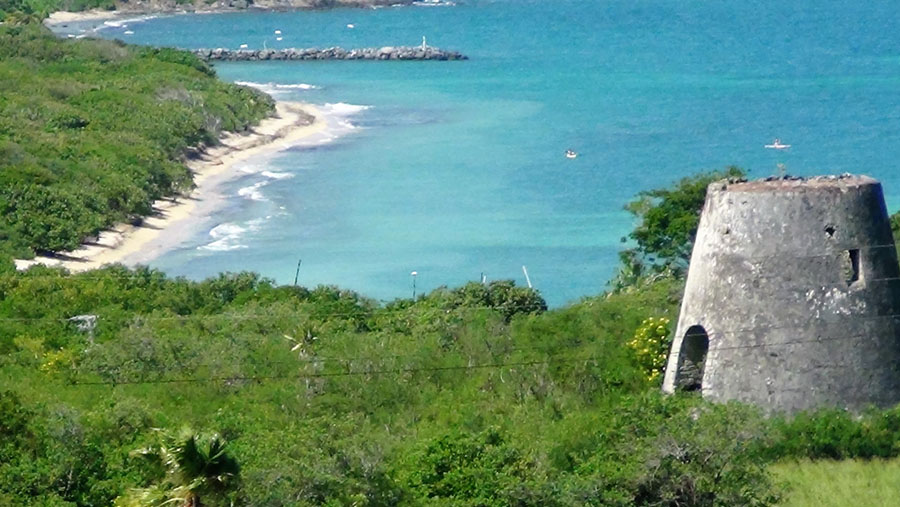 They look like sand-castle components, but these cone-shaped structures that dot the island are the body of forgotten windmills without the sails, they were used to press the liquid from sugar cane.
Among the architectural charms, you'll find in St. Croix the long, narrow, yellowish Danish brick that surfaces wherever stucco has chipped off.  This unique brick came as ballast on trading ships, and then became recycled building material, left behind ships left the island with their heavy cargo of sugar and rum.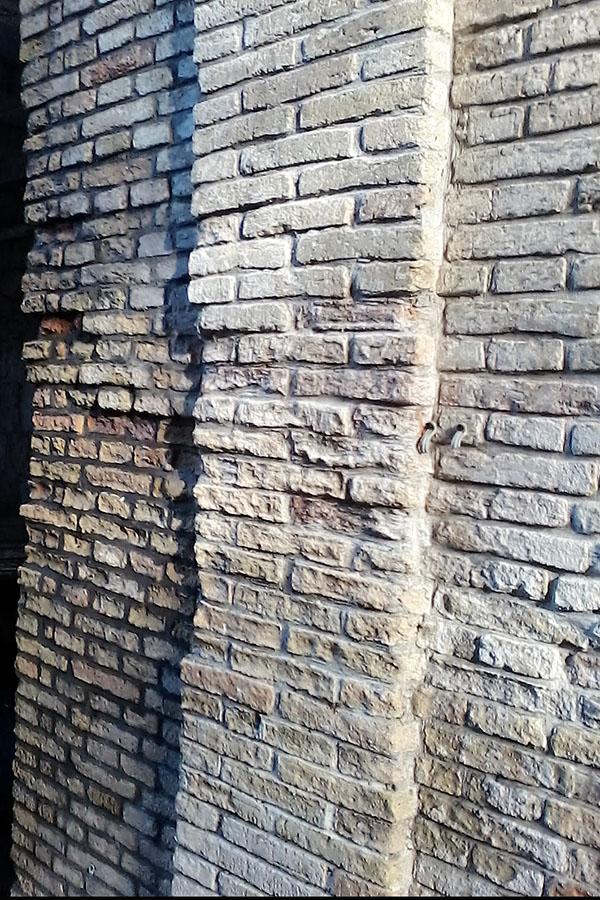 In an early form of recycling, the tow quality Danish brick used for ship ballast became the building material of choice in St. Croix.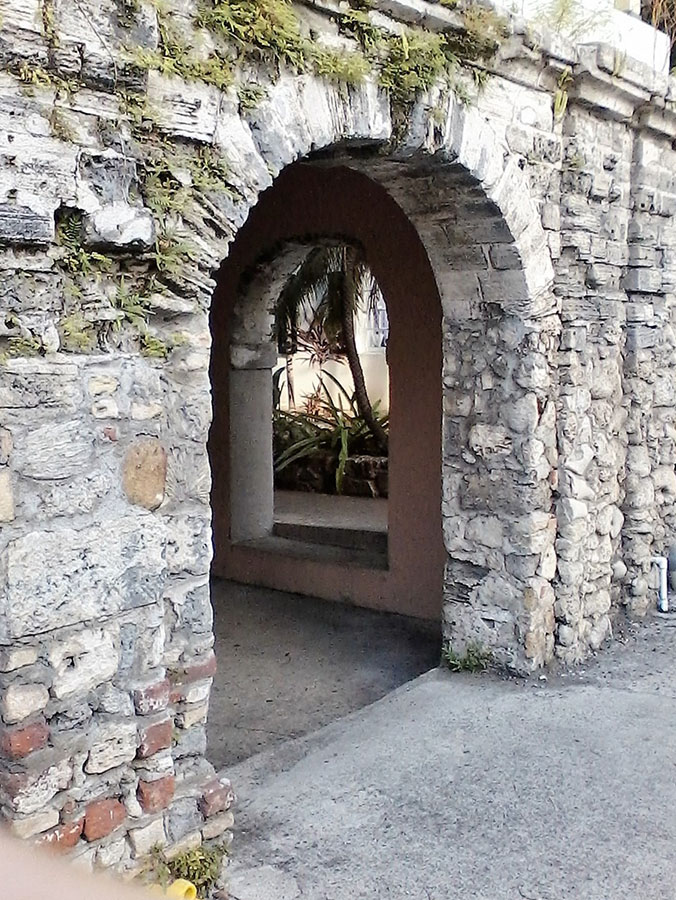 Coral stone mined on the island also contributes to the masonry construction. Today we'd leave it exposed, back then they covered it with stucco. When the stucco flakes off, the beautiful materials surface. Although exposed, they begin to deteriorate.
Patina runs rampant on the island, humidity, moss and jungle growth will transform any masonry surface into a verdigris delight. Jungle vines hug and strangle columns, and within a few short years, vegetation overtakes abandoned structures.
The derelict and the blighted parts of town offer the best photo opportunities.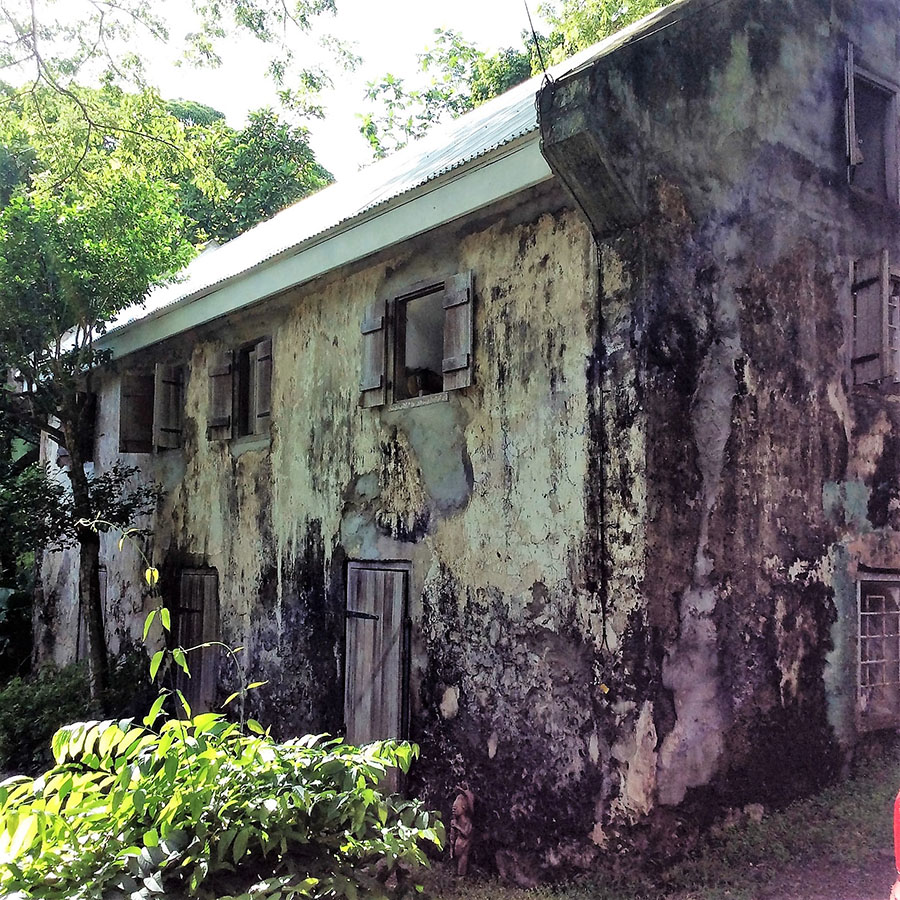 If you can't beat 'em, join 'em. If you could peek through the windows of this highly mildewed home, you would see a thoroughly modern, beautifully white plaster finish with fine furnishings and no doubt a modern kitchen and baths. When I thought about it, I concluded I would do the same, leave the veneer nature had painted over the old stucco, and no modern material could mimic.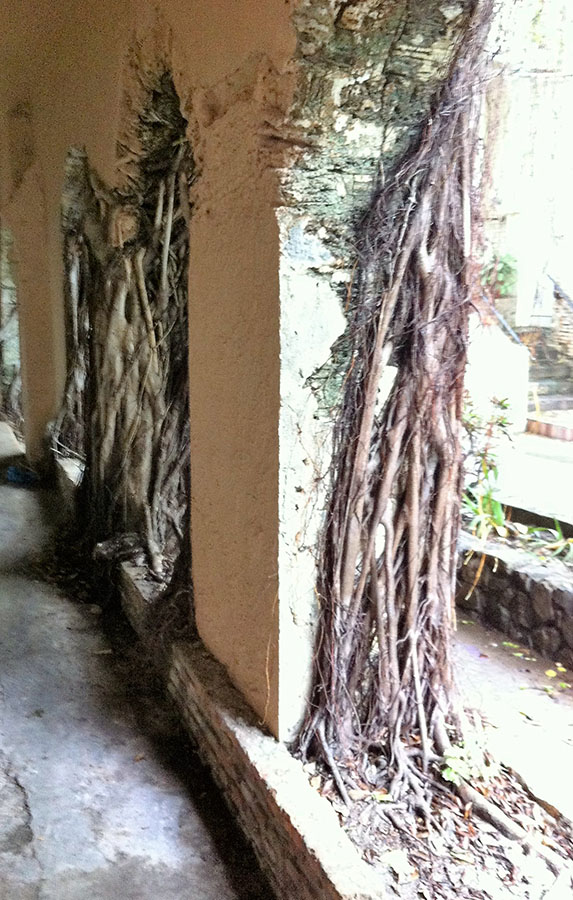 Vines and rooty trees hug and strangle structural columns, eventually engulfing entire buildings, and is a sea-creature devouring them whole.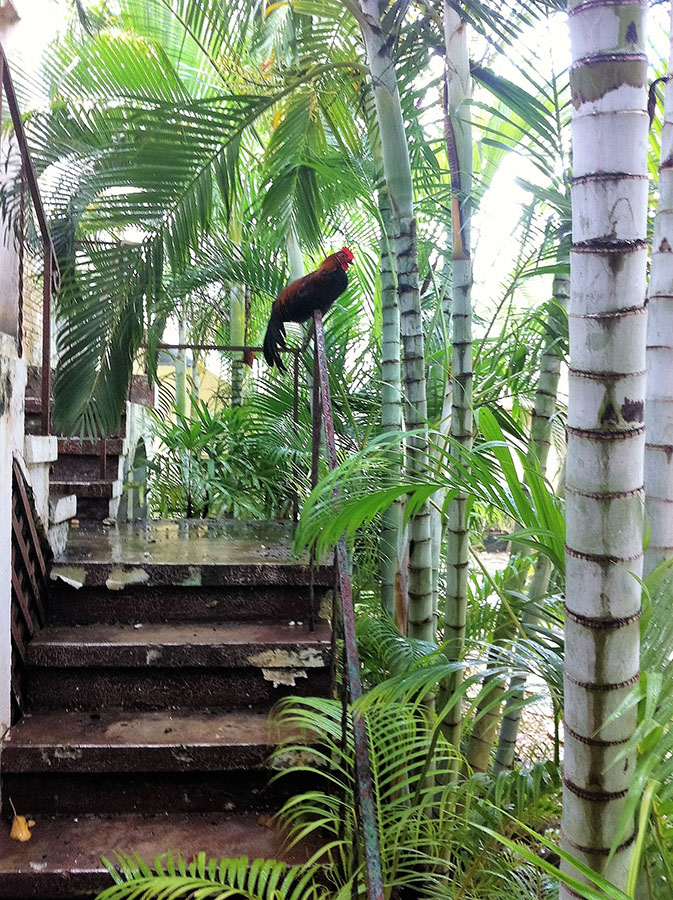 Where trees grow faster weeds, the jungle turns the plain into something truly exotic.
Although for architectural history buff, the conservationists have done a wonderful job of preserving many colonial buildings, such the forts in Christiansted and Frederiksted, the home of Alexander Hamilton, and the old rum factory. One of the great opportunities on St. Croix come with aggressive historical and enterprise tax credits that incentivize redevelopment and restoration.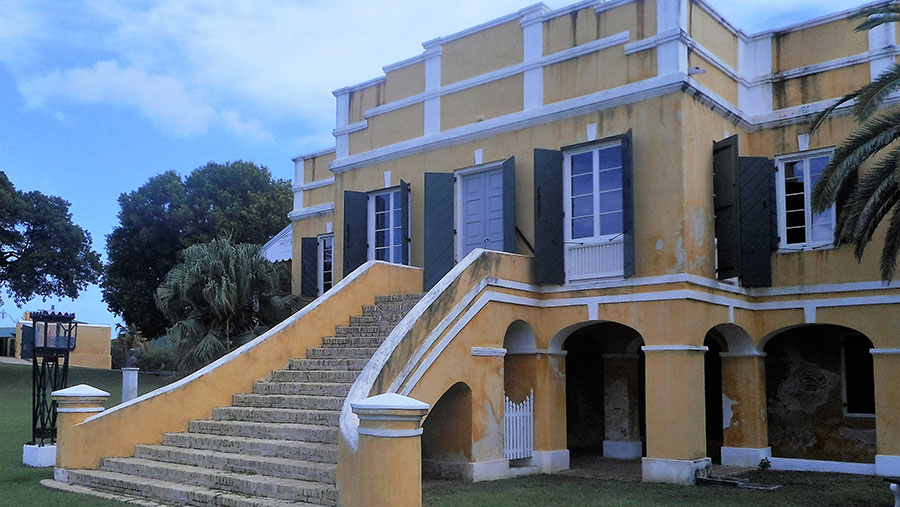 The St. Croix Landmarks Society has done a wonderful job of preserving the Danish colonial buildings, such as Danish Customs House, pictured.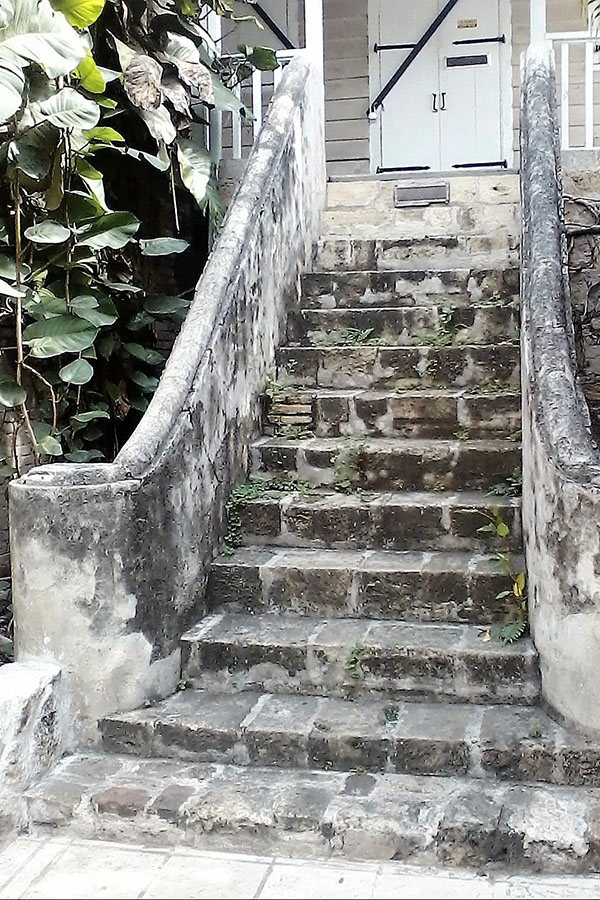 Once you've seen the classical characteristics in the refurbished historical buildings, you see the patterns repeated throughout the island, such as this style of sweeping stairway spotted on homes, hotels, and many of the ruins.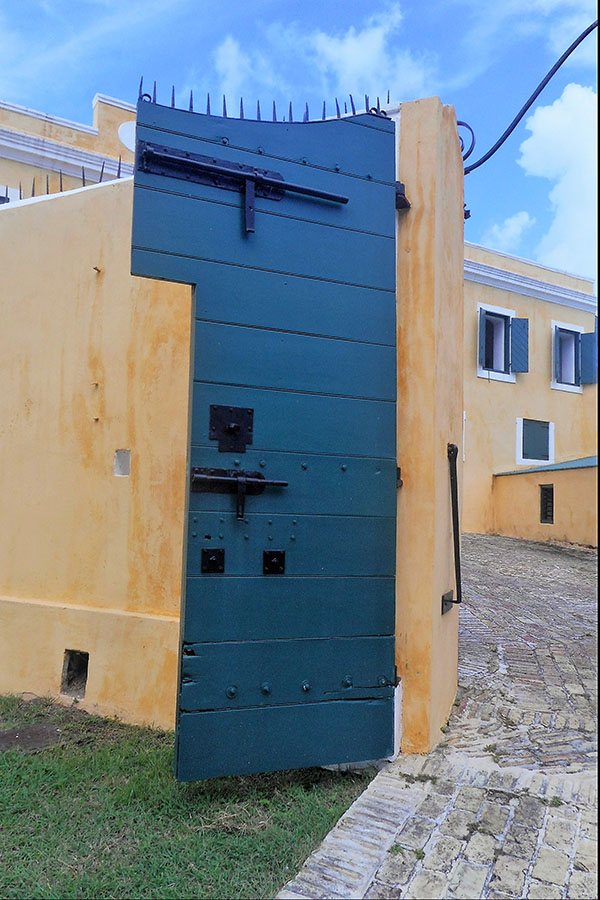 The entry to Fort Christened, where the Danish repelled pirates and fought the French.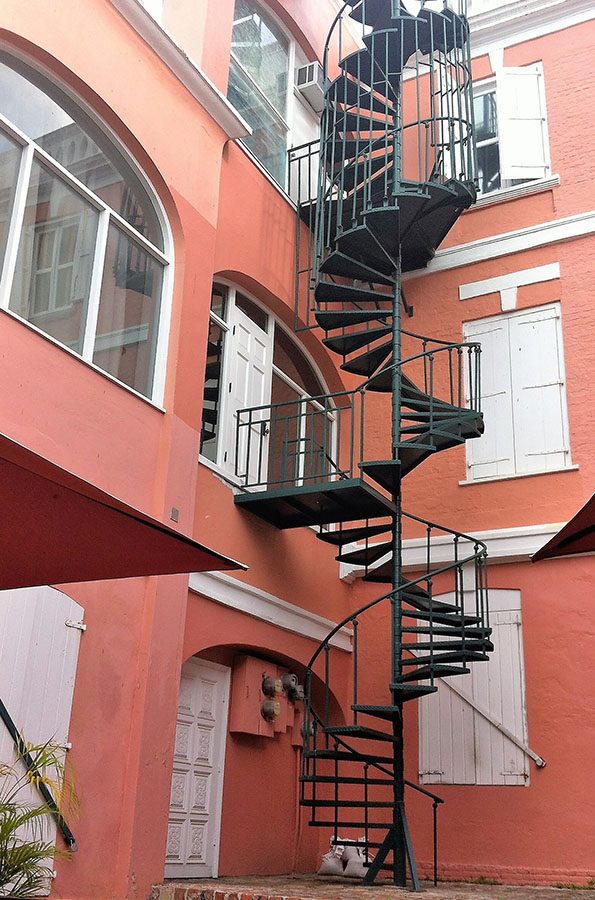 Nothing historical about it, but I thought this three-story spiral stairway looked very cool. My wife, Martina gets credit for this eye-catching photo.
Caribbean Dreams
Images of paradise almost always include palm trees, cerulean waters and white sand beaches.  It's the Caribbean, and St. Croix offers all the standard delights, sailing, rum cocktails and strolling lonely beaches at sunset and sunrise.
Nowadays, the business community expresses optimism, a buyer has materialized for the refinery, tourism has increased, and real estate sales have improved. St. Croix also boasts another feature that will make it appealing to anyone looking for a picturesque place to set up a new office.
Three of the Internet's biggest cables connect there, so it's sitting on the crossroads of a huge internet highway. Several large online services have already taken advantage of the islands generous economic incentives, such as a 90-percent income tax credit.
Opportunity for value-buying remains strong, and we found some great deals—difficult to choose from—but the sale of paradise real estate may not last forever. The place is too pretty.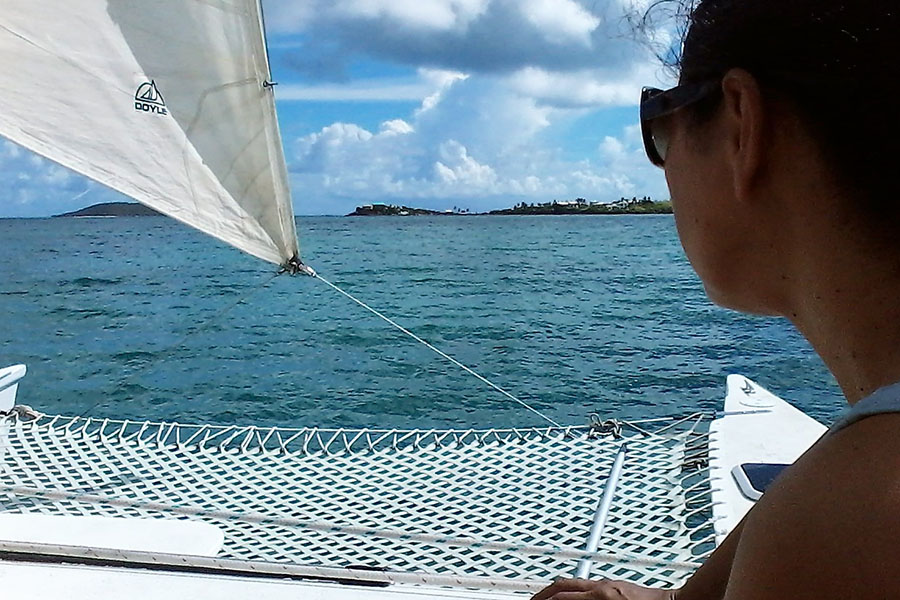 There's nothing so relaxing as sailing gentle waters, and you can do this living and working in places like St. Croix. Having experienced it, I'm not sure we can go back to fighting winters in Colorado.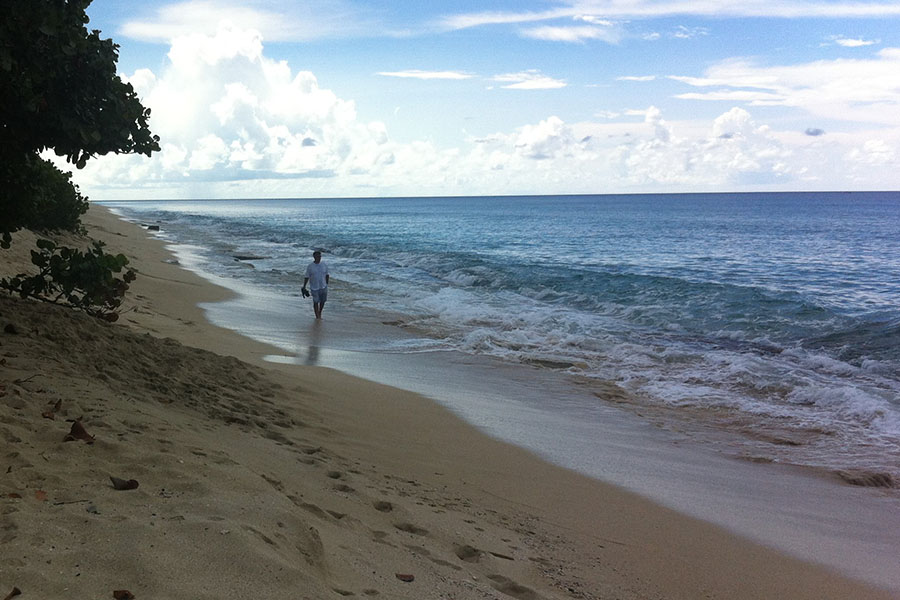 Strolling along a lonely beach, they still so exist, puts life and work into perspective.
And then, it's dinnertime.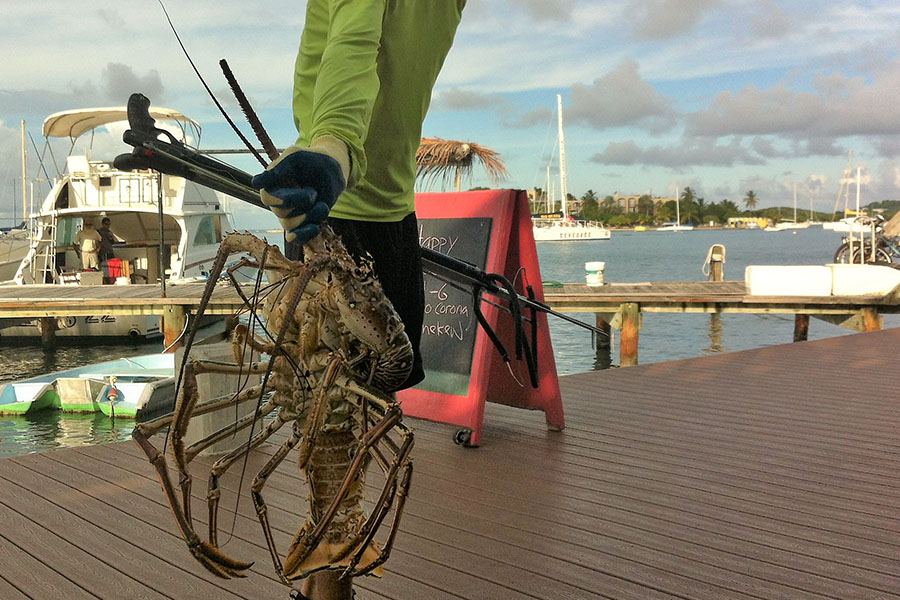 — Fernando Pagés Ruiz is ProTradeCraft's Latin America Editor. He is currently building a business in Ecuador and a house in Mexico. Formerly, he was a builder in the Great Plains and mountain states. He is author of Building an Affordable House and Affordable Remodel (Taunton Press).